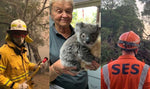 Australia Day on January 26th is a time to celebrate all the good things about this 'sunburnt country'. This includes what it means to be Australian and just what it takes to live in what can be one of the most challenging environments on Earth. 
But it's been a truly difficult start to 2020. At the time of writing, 32 brave souls have been lost in the bushfires that have consumed around 10 million hectares of pristine wilderness. Over 5000 buildings have been destroyed leaving families homeless and businesses ruined. Then there's the horrifying statistic that estimates a billion creatures have died in the flames.
No one can ignore the confronting images that have flooded our newsfeeds and TV screens day after day for months now. The incinerated wallaby caught in a wire fence; the charred figure of a koala lying as if fast asleep on a path in the bush and joeys with burnt paws wrapped in bandages. These animals are part of what makes Australia well... Australia. To know their populations and habitats have been decimated is heartbreaking. 
celebrate Australia Day with BIBO
So that's why this Australia Day, here at BIBO HQ we've come up with a plan to celebrate the unsung heroes of this bushfire season and give you the chance to help our Australian wildlife. We're running a very special offer every day until the end of February 2020. But more of that later.
First, Australia Day. While the name and date themselves are growing more contentious as each year passes, there's no denying that when it comes to celebrating everything that's good about this land of red dirt, the bluest of blue skies and glittering oceans, Australians surpass all expectations.
the great Aussie volunteer
Barbecues on the beach, backyard cricket and stubbies in the esky plus the announcement of Australian of the Year all go into what makes Australia Day special. And this year, after the hardship of the ongoing bushfires and the unstinting sacrifice of thousands of volunteers in the fight to save lives, land and property means that BIBO is declaring that our vote for Australian of the Year goes to...
The Australian volunteer.
Be it donating expertise and time to rehabilitate injured wildlife, volunteer firies fighting in a gargantuan battle or the dedication of SES volunteers, it's our bushfire volunteers who are the true heroes of this country. And it's every bushfire volunteer who deserves this most special of accolades.
So on Sunday, raise a toast to the volunteers who will still be out there, working to keep us safe and our land and animals protected. 
Australian volunteers – we salute you.
a very special offer to help Australian wildlife
At BIBO, we've been desperate to help those affected by the bushfires. That's why we've come up with this special offer whereby until the end of February 2020, BIBO will donate direct to the RSPCA $50 for every BIBO water bar purchased.
That's right! This special offer means that $50 will be donated in your name to the RSPCA National Bushfire Appeal. Because of your donations, vital work to keep surviving animals safe can continue and the hard task of entering affected areas to identify and assess injured animals can begin.
Naturally, you'll receive a receipt for your donation for tax purposes. And of course, you'll enjoy a BIBO water beverage system that will revolutionise the way your family stay healthy and hydrated. The convenience of hot and chilled drinks at the touch of a button is undeniable. 
So from all of us at BIBO, happy Australia Day.
And thank you from the bottom of our hearts to every selfless, dedicated, community-minded volunteer associated with the bushfires.
You make us proud to be Australian.
---
← Older Post Newer Post →