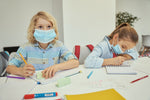 It's a school year like no other – millions of kids back at school as the Omicron variant sweeps through the population. Here's BIBO's guide to keeping them safe...
Parents and teachers are enduring one of the most disruptive and stressful years they've ever had to face, with COVID outbreaks forcing many kids to isolate.
Vaccine shortages have meant not all 5-11-year-olds are fully vaccinated, while many older kids will still be waiting for their booster. 
Rules on who needs to take a RAT, quarantining periods and what defines a close contact vary between states and the advice seems to change daily so it's no wonder parents are worried.
BIBO has researched some tangible things you can do to help keep your kids safe in the classroom.
be honest
Younger children are bound to be anxious when they hear about a disease spreading and people getting ill. A good strategy is to ask them what they already know and if they have any questions. That way you'll know if they've been exposed to any false information.
Be truthful and follow their lead – some will be very curious and bombard you with questions while others might not be that interested.
offer reassurance
You can let them know that kids are less likely to get infected than adults and that, even when they do, they don't feel as unwell. For most, it will be like a mild cold that will be over in a few days.
There's no need to tell them this next bit, but out of the 270,000 children who were infected with COVID in Australia before January 19 this year, five have died, including at least one who may have had underlying conditions. The risk is very small, particularly as Omicron is a milder variant than its predecessors.
READ MORE: 10 tips to keep kids safe in summer
make safety fun!
The most important thing you can do to keep your kids safe is get them into good habits. Wearing a mask can be very annoying for a little boy or girl, so get them used to wearing them at home by setting a good example yourself. You could even buy some funny or colourful masks so they enjoy showing them off to their friends.
And we all know that you're supposed to sing 'Happy birthday' twice in your head as you wash your hands, so why not use their favourite song instead? Find one that works, and they'll be much more likely to comply. Make sure they hear you belting out your song of choice when you wash your hands!
sharing = not so good
We've always taught our children that sharing is the right thing to do, but we need to update the messaging a little. Explain that the virus can be spread if they share their food and drink with their friends, so they need to be extra careful. Always make sure they have a reusable bottle filled with filtered water that has their name on it in their bag and that no one else must use it. You can admit that it sounds a bit mean, but it's really important to protect them and their classmates.
check in every day
One thing is certain – when they're at school, they're going to hear a lot of information and tall stories about the virus from friends, social media, teachers, older kids and TV. Ask them every day after school what they've heard, and talk about what the real facts are. It doesn't help that there are so many adults, politicians and celebrities spreading lies and conspiracy theories!
READ MORE: What's actually in a glass of water?
keep your kids safe... and strong
Despite all the rules about social distancing, you're not realistically going to stop them running around the playground and playing games. Nor should you. Physical exercise builds a strong immune system and will help them fight a virus. Check their water bottle after school and, if they haven't drunk enough, give them a glass of chilled and purified water from your BIBO water bar and another one with their tea.
look for signs of stress
Kids will often tell you they're OK, when, deep down, they're really worried. The pandemic has disrupted their routine and they've almost certainly picked up on your anxiety. Look out for tell-tale signs that they're struggling such as:
They're more clingy and follow you when you leave a room.
They become more shy and withdrawn and don't want to see their friends.
You notice outbursts of aggression, perhaps to a sibling.
A return to thumb-sucking or carrying around a soft toy.
protect your own mental health
This is a very stressful time to be a parent! If you're struggling to cope, don't suffer in silence. There are plenty of organisations who can help with support and advice.
Beyond Blue: 1300 224 636
Family Relationship Advice Line: 1800 050321
Lifeline: 131114
recent stories
This summer's hottest new mocktails
6 tricks to save $$$ on your bills
---
← Older Post Newer Post →