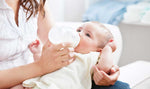 Healthy, pure and fresh water is a must for babies and toddlers.
It's vital to remove the potential nasties from your tap water to protect your little ones.
But if you're sick and tired of waiting for tap water to boil – here's the perfect water solution – it's called a BIBO Water Bar.
With a BIBO filtered and purified water dispenser there is no more waiting for water to boil or cool down when preparing your baby's bottle.
It's a lifesaver when baby wakes for those late night and early morning feeds. You simply press a button to fill baby's bottle at the ideal pre-set temperature and perfect measure.
Featuring the latest technology to filter and purify your tap water to the highest standards, BIBO is the safest choice in home water filter system for babies.
BIBO remove harmful bacteria
It removes all the harmful bacteria from tap-water, including micro-organisms and impurities, which are potentially harmful to babies and toddlers.
The built-in UV lamp technology for purification, along with the continuous boiling cycle ensures water is well-sterilised and kills those nasties.
BIBO boasts user-friendly touch screen technology and comes with built-in child locks for added safety.
With a BIBO water purifier you can say Bye Bye to your kettle and Bye Bye to the filter jug and Bye Bye to wasting precious time when preparing baby bottles in the wee small hours.
Water from the BIBO Water Bar is crystal clear, refreshing, healthy, and tastes great.
And just think of the extra sleep you'll get!
---