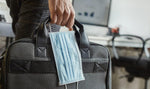 Finding out the latest advice from your state or the Federal Government as we prepare to return to work can be a confusing process with legislation and guidelines changing by the day. As social distancing rules are gradually relaxed, it's important to know the facts about getting back to business – safely.
Find daily updates on the

 

number of diagnosed cases of COVID-19

 

in Australia

 

here.
what we still need to do to stay safe from coronavirus COVID19
The government has drawn up a three-step plan for opening up the country, but some things won't change:
Maintain 1.5m distancing.
Wash hands or use sanitiser frequently.
Stay home if unwell.
Find out more about the

 

symptoms of coronavirus

 

here.
Frequently clean and disinfect communal areas.
what each step of the return to work plan means
Step 1: Gatherings of 10 of people allowed, restaurants can seat 10 patrons, five visitors to a home. Ten wedding guests permitted, 20 mourners at indoor funerals, 30 for ones held outside.
Step 2: Gatherings of 20 and more businesses reopening. Gyms, beauty clinics, cinemas, theatres and museums open, but with restrictions on customer spacing. Higher risk activities still have tighter restrictions. Some interstate travel.
Step 3: Majority of businesses open, gatherings of 100 permitted and minimal restrictions in the community, but maintaining social distancing and strict hygiene.
where to get the latest return to work information for your state or territory
All states moved to Step 1 in early May and some are already moving into Step 2, or announcing the timetable of transition. To get the very latest return to work advice for where you live, go to your state or territory's dedicated site:
5 ways to make your return to work healthy and safe
Take care of your mental health
On the first day back, try to get to work early so you can reacquaint yourself with the building, have a coffee (hopefully your office has a BIBO), make sure you have all the stationery you need and that your computer is all set up and ready to go. If you feel a knot of anxiety in your chest, it's understandable  – one in five Australians experience mental health issues, so you're not alone. There are some great tips about dealing with anxiety from the Black Dog Institute here. 
Be surface savvy
While it's true that Australia has fared better than most countries in containing the spread of the virus, that doesn't mean we can let our guard down. It's helpful to assume that every surface you touch at work – bathroom door handle, escalator rail, lift button, printer and chair armrests – are potentially sources of the virus. Either wash your hands or use hand sanitiser every time you touch one. 
Know the rules
Every company has to rigidly abide by the legislation on workplace social distancing, use of masks or rules for shared spaces. If you're not clear on what these are, talk to your manager. Employers also need to make sure they communicate and enforce the new protocols or they could face fines.
Safe Work Australia has drawn up

 

10 guiding principles

 

to help workers and employers understand what is expected.
Stay hydrated
Commuting to work and face-to-face meetings means you're going to need to take care to hydrate as much as possible if you want to stay at the top of your game all day. And as it's impossible to socially distance while waiting for the kettle to boil or taking your turn at the cold tap in a small work kitchen, having access to instant  water at the temperature you need is vital. With a BIBO Water Bar there's no hanging around and you get to drink what you need to stay safe and healthy. 
Take steps to reduce stress
Don't wait until you start to feel stressed. Instead, be proactive from the first day you return to work at keeping these feelings under control.
"Physical and mental health are closely intertwined. While you practise good hygiene and physical distancing in the office, you should also practise stress-reduction," wellness expert and nursing chief Bernadette Melnyk says. She suggests taking five deep, abdominal breaths every time you wash your hands for 20 seconds. "Doing this at least five times a day can reduce anxiety and even lower your blood pressure," she says.
Another great tip is downloading a stress-reducing app, such as Headspace, to listen to on breaks or while commuting.
---
← Older Post Newer Post →