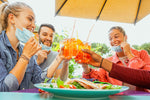 Nothing makes a warm, balmy evening more complete than a refreshing summer cocktail poured over ice as the last of the sun's rays disappear beyond the horizon.
But with some exotic concoctions, all the grinding, juicing, muddling herbs and brewing up syrups can take longer to prepare than they do to drink!
Fortunately, BIBO has found some delicious summer cocktails that won't take up any precious lounging time. Just make sure everyone stays hydrated by drinking plenty of chilled water.
6 summer cocktails
A refreshing and slightly bitter flavour with an aromatic fragrance.  Gin and vermouth are the main ingredients with a Cocchi Americano, a quinine-scented wine from Asti in Italy. But don't worry if you can't get a bottle from the IGA – a simple alternative is to dissolve half a teaspoon of sugar in two tablespoons of boiling water from your BIBO Water Bar and then add two tablespoons of white wine.
Ask a barman for a mojito and he's likely to shoot you a dirty look as they take ages to make, but this version tastes every bit as good, but doesn't need all that lime and mint crushing with a wooden spoon. The trick is to use a lemon-lime soda instead of sugar. If you're expecting guests, then mash the slices of lime and mint leaves together the night before and freeze them in individual portions so you'll require less ice as well!
This little beauty has been a favourite summer cocktail since Elvis Presley brought it worldwide fame in his 1961 film Blue Hawaii. But it can also be a faff with all those pineapple, cherry and mint garnishes. It also requires a liquor called orgeat, which funnily enough, most of us don't have lying about the house. So, drop the garnishes unless you want to impress the neighbours and replace the orgeat with a simple sugar syrup.
This long, satisfying drink takes only seconds as it misses out a key ingredient: bananas!  Mashing them up enough so they form a liquid without any lumps takes ages so this clever version uses banana liqueur instead. Adding a sliced strawberry makes it look just that little bit fancy too.
Mexicans drink far more of this refreshing summer cocktail than they do margaritas, and you'll taste why when you need cooling down in the midday sun. One important tip is to use purified, filtered water from your BIBO Water Bar for the ice cubes as it'll ensure they'll be clear, not cloudy.
A real people pleaser, but with so many ingredients it's easy to see why there's a 'long' in its title (but less easy to work out why there's also a 'tea').  So, how about making a pitcher that's ready as soon as your guests arrive? To make this even quicker, dispense with the straining as there's really no need. Be warned that it's pretty potent, so adding a cup of purified, chilled water  will take the edge off nicely!
---
← Older Post Newer Post →