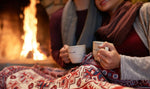 At this time of year we all need the comfort and cosy feeling that hot drinks bring. Nothing puts the glow back in your cheeks faster than the instant piping hot water from your BIBO Water Bar. It's not only great for tea, coffee and hot chocolate, it can help with these deliciously different milky hot drinks that are packed full of nutrients.
What's more, warm milk has been proven to ease stress and help you get off to sleep. Win!
new ideas for winter warming hot drinks
If your repertoire of hot drinks only extends as far as tea, coffee and hot chocolate, here are a few ideas for milky indulgence.
1. Spiced warm milk and honey
This is a great bedtime drink for the whole family (remembering to clean teeth afterwards, of course!). Containing vanilla, cinnamon, cloves and cardamom, it's a quick and easy recipe. If you're using full cream milk, top it up with a dash of boiling water.
2. Turmeric latte
The trick with this spiced golden milk is to make a jar of turmeric paste that'll keep in the fridge for up to two weeks so you can add a little every evening to your warm milk. It tastes great with almond milk too.
3. Minty lo-cal hot cocoa
Powdered drinking chocolate contains over 35g of sugar in every cup, but this simple recipe has none. And the mint could help you avoid other sugar-laden temptations as a sniff of mint reportedly reduces cravings for the sweet stuff. If you have a BIBO Water Bar, then it's even quicker as you can stir in boiling, filtered water to save time.
4. Immune-boosting spicy coconut tea tonic
This delicious tea also needs filtered water and contains a powerhouse blend of anti-bacterial and anti-oxidant ingredients including ground ginger, cloves and turmeric to rev up your body's natural fighting power. It also uses caffeine-free tea so won't keep you up. Remember, the BIBO Water Bar delivers instant purified and filtered water so you can be sure you're drinking the absolute best.
5. Best ever hot chocolate
OK, so we couldn't leave our favourite hot drink out altogether, could we? Sometimes you really need the comfort and familiarity of a hot chocolate drink, and this one is the ultimate in decadent indulgence. Not only that, you can tweak it and stick it in the fridge to make a scrummy chocolate sauce.
6. Milk of the land
Hot drinks don't come better than this! Marmalade vodka, a sprig of rosemary and cranberry jelly combine for a lilac showstopper. You can even set the rosemary on fire for a final flourish! Add half a cup of boiling water for a more refreshing taste.
7. London Fog
In Victorian times the mist and smoke in England's capital was so think it was called a 'pea-souper'. Luckily this refreshing night time treat contains antioxidants so it's a fair bit safer than a choking smog! The water needs to be around 98 degrees Celsius – you can set your BIBO Water Bar to the exact temperature you need.
6 health benefits of warm milk
Milk-based hot drinks are a great source of vitamin B12 which helps make healthy red blood cells to leave you feeling energised. A single cup supplies one-fifth of your RDA.
It's also one of the healthiest sources of potassium and calcium to lower blood pressure and make bones stronger.
Milk is easier to digest when it's warmed up to prevent uncomfortable digestive problems including diarrhoea and

 

bloating.
You're more likely to get a sound night's sleep after a hot milk drink as it contains an amino acid called tryptophan that produces serotonin and melatonin to help you feel restful and more relaxed.
Creamy hot drinks give you a feeling of fullness which has been shown to reduce snacking at night. The protein helps maintain blood sugar levels so you're less likely to suddenly feel hungry than if you consume a sugary drink. You can easily reduce the calorie count by topping them up with some

 

instant hot water.
Milk contains proteins that trigger receptors of the brain that help reduce anxiety and stress.
---
← Older Post Newer Post →