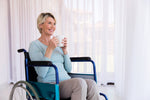 Can you claim for a BIBO Water Bar through your NDIS plan?
If you're eligible for assistance through the government's National Disability Insurance Scheme (NDIS) then you may be able to make a claim for your BIBO Water Bar.
For those with mobility difficulties, filling a heavy kettle and then pouring boiling water into cups can be stressful and dangerous.  Often, preparing a morning coffee or afternoon tea is only possible if a carer is on hand to help.
All about the BIBO Water Bar
The beautifully designed BIBO Water Bar provides great tasting, instant hot or chilled water that's been filtered and purified at the touch of button.
You can now say goodbye to the kettle, water cooler, filter system, and bottled water and have unlimited filtered and purified water whenever you want and you will feel healthy and hydrated always.
Why you should choose the BIBO Water Bar
Filtered and purified water that's free from contaminants.

Powers down automatically when not in use, reducing your energy costs.

Safety lock embedded to prevent scalding.

Intuitive touch screen to control temperature.

No expensive installation costs – and you can take it with you if you move house.
What is the NDIS?
The NDIS helps over half a million Australians live more independent lives by providing services including:
Transport to community groups, work and social activities.
Mobility equipment
Home and Car modifications
Funding to adapt workplaces
Help with household tasks so participants can live in their own homes
How can I claim for my BIBO Water Bar?
Several BIBO customers have successfully claimed back the cost of their water bar as a 'consumable'.
Consumables are everyday household items that help a disabled person live independently in their own home. 'Assistive technology' includes equipment and devices that enable them to perform tasks that their disability prevents them from doing.
How do I make an NDIS claim?
You can ask about claiming for a BIBO Water Bar in your regular NDIS planning meetings, or use funding in your existing plan. A water bar is categorised as 'low cost assistive technology' as its less than $1500 and doesn't need to be bought from an approved provider.
The NDIS will look into whether what you're planning to purchase represents good value before they grant approval.
To claim, you'll need to demonstrate that your disability means you cannot safely use a regular kettle
You'll find more information on NDIS claims here.
At the heart of the NDIS is a desire to improve the quality of life for those living with a disability – helping them to live happily in their homes, gain employment opportunities and have a rich social life.
If you think a BIBO Water Bar would help you or someone you know live their life to the full, call the NDIS helpline on 1800 800110 or email enquiries@ndis.gov.au.
READ MORE: Why people drink filtered water
You may also be interested in...
The best hot drinks to fight colds and viruses
6 tricks to save $$$ on your bills
This year's 7 must-have kitchen appliances
---
← Older Post Newer Post →