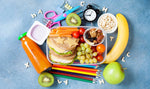 If your little cherubs haven't already gone back to school (pause for happy dancing from all parties) then they will have this week which means you need easy kids' lunch box ideas – STAT!
Try our pick of the best, easiest, guaranteed-to-be-eaten, no-throwing-in-the-bin kids' lunch box ideas that will save you time, money and hassle, and fill their tummies. Time to polish your halos, people.
15 kids' lunch box ideas
1. cheesy pumpkin puffs
These little balls of yum have just the right balance of tasty cheese and healthy vegies to make even the fussiest of eaters wolf them down.
2. noodle veggie frittatas
Whip up a batch of these crowd pleasers in minutes by using dried noodles and instant boiling water from your BIBO Water Bar.
3. spinach ricotta muffins
An iron and a calcium hit for added goodness in these savoury muffins? Winning!
4. two-in-one muesli bars
Swap out the ingredients with this clever recipe which gives you double the options. Will it be mango or cranberry and choc? Tip: soak the dried fruit in a splash of boiling water from your BIBO Water Bar to make them super plump and delicious.
5. ham and egg pies
A classic combination that's packed with protein to keep kids going until dinner. No more rumbling tummies after school!
7. choc banana and apricot snack bars
Chocolate, sweet banana and juicy apricots = antioxidants, potassium and iron. What's not to love about this delicious kids' lunch box idea?
8. cheesymite scrolls
An oldie but a goodie, these typical Aussie snacks have taken pride of place in kids' lunch boxes for generations. 
9. salmon pasta salad
A great way to use up leftover pasta and tinned salmon in this simple but oh-so yummy recipe. 
Who doesn't love a schnitty? Cook one extra at dinner and this favourite lunch box idea will be a breeze!
11. veggie falafels
These tasty treats are packed full of vegies to keep kids healthy. Fabulous finger food for fussy eaters.
12. mini heart pikelets
Anything mini and cut into a cute shape is a winner with little ones which makes these little heart pikelets a champion addition to any lunch box. Add some blueberries and chopped strawberries for a fruity punch.
13. star sangas
Kids are super stars and it's time to remind them just how special they are with these easy, star-shaped sandwiches.
14. veggie noodle pot
What makes this healthy noodle snack even easier? Why, your BIBO Water Bar, of course! An innovative instant hot and cold, filtered and purified water dispenser used for hot and cold drinks, soups and any cooking needs.
15. ready go wraps
These quick and moreish wraps are just a matter of minutes to make giving you extra time in the mad rush of the mornings. Enjoy!
---
← Older Post Newer Post →