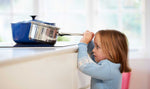 As the number of Aussie kids falling victim to burns and scalds grows, parents are being given urgent advice to stop their children falling victim to a lack of kitchen safety.
One child under the age of four is hospitalised by severe water-related burns every single day in NSW alone. While at Victoria's Royal Children's Hospital, two burn victims under 18 are admitted every 24 hours. Over half of these cases are caused by poor kitchen safety involving scalding hot water, usually in the form of tea or coffee.
Head of Trauma at the hospital, Dr Warwick Teague describes the figures as 'alarmingly high' and that they are on the increase. "This is an extremely important matter," he says. "Burns are a leading cause of injury in children and have short and long-term implications for the rest of that child's life."
how to treat a burn
If a burn does occur, it's vital to know what to do:
• Immediately place the burn under cool, running water for at least 20 minutes.
• Dial 000 for an ambulance if the burn is widespread or severe.
• Never use butter, oils or ice to treat burns as they can make the injury worse.
Kettles are the most dangerous appliance in the kitchen. If the electrical cord hangs down, an inquisitive toddler might pull on it to see what happens. And the scary thing is that boiled water can still be lethal more than 20 minutes after it has boiled. Water that has cooled to 50°C takes just five minutes to cause third degree burns. At 55°C, that goes down to 10 seconds and at 60°C, just one second.
The trouble is that keeping your eye on children every minute of every day is nigh on impossible. When we're in a hurry, entertaining guests, feeling under the weather or tired, kitchen safety is often overlooked and accidents are far more likely to occur.
time to chuck the kettle?
However, there is good news in that there are simple ways to protect your children around the kitchen. Replacing your kettle with a BIBO water bar can give you peace of mind as they are fitted with child safety locks meaning little fingers can't accidentally start dispensing boiling liquid. The BIBO water bar can give you purified, filtered water at the temperature you choose so the potential dangers of a kettle are a thing of the past.
Another step to prevent kids being injured because of poor kitchen safety is to turn down the temperature of the hot taps. The average domestic water is delivered at around 70°C, but experts recommend turning it down to a maximum of 50°C. By law, all newly-fitted hot water systems have to have this setting. An added advantage is that you save on your power bills. How many of us always have to run the hot and cold taps together to make the water bearable? It's such a waste!
Of course, with a BIBO water bar, you don't have to worry about that as you can set your water to be the exact temperature you need, whether it's boiling, hot, warm or chilled.
A child can be scalded in less than a second yet the horrific consequences last a lifetime. None of us can stand guard all the time, so any changes we can make to improve kitchen safety and reduce the risk of injuries are surely well worth taking.
---
← Older Post Newer Post →