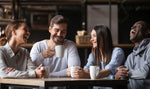 It's been a rollercoaster year when it comes to mental health, but chatting over a soothing hot drink can be just what the doctor ordered
Months of enforced isolation, mass redundancies, lockdowns and travel restrictions have taken their toll on the mental health of many Australians. And as we face up to an uncertain 2021, it's more important then ever to look out for each other and recognise when someone you know is struggling to cope.
And while we still need to socially distance responsibly, we also need support. And coming together for a casual catch up over a relaxing herbal tea is an important first step.
Drinking together has always been a bonding experience at the heart of our culture. And there are several ways it can help now…
start a coffee club
There's a growing trend for friends to meet up in each other's homes at the same time each week for coffee, especially those who are now working from home and having less human contact. One idea is to try different blends of coffee each time and vote on the best ones. Remember that water that's been filtered and purified by your BIBO Water Bar before being poured into a coffee machine always tastes better.
work out together
When gyms closed down, many were forced to exercise alone, but it's much harder to stay motivated when you're the only one in the spin class! Soon informal groups were forming in public parks where people could encourage each other while still keeping a safe distance. Now that it's summer, a good tip is to exercise early in the morning and take twice as much water as you'd normally carry. There are also lots of fun ways to exercise in your home exercise in your home.
tea and sympathy 
Even before the pandemic, government surveys revealed that one in five adults had suffered a mental health issue in the previous year, and half will do so in their lifetime. This year too many had to suffer in silence, physically unable to talk through their fears with a best mate. The term 'tea and sympathy' is very apt – even the biggest dramas can seem more manageable when you have a natter over a nice cuppa. Whether you're at home or in the office, peppermint or chamomile teas can help relieve stress. And if you don't have to wait for the kettle to boil, you can get to the heart of the matter more quickly. There are tips on beating workplace stress here.
meditation and yoga
These days you don't need to drive to a fitness centre for an expensive yoga class. There are plenty of Your Tube videos and apps that you and your family or friends can do in the comfort of your sitting room or back yard.  And after you've all released sufficient endorphins and got the yin and yang back into balance, enjoy a calming herbal tea. Your BIBO Water Bar BIBO Water Bar can deliver instant hot water at the optimum temperature for the flavour to infuse perfectly.
get teens to talk mental health
Mental health can affect teenagers and young people more than other groups, and many are too embarrassed to talk about it to their parents or teachers. A fifth of all injuries and diseases in kids aged between 10 and 19 are the result of mental health issues, according to the World Health Organisation. Its advice is that peer group support can be vital in helping individuals cope and seek help.  Making sure your teens know that talking honestly about their feelings to their friends is healthy will really help them if they ever struggle with anxiety or depression. It usually doesn't come naturally, but over time it can feel like the natural thing to do.
Throughout history, our lives are often built around 'drinking occasions'. Meeting up for a meal says 'I need to eat', but a drink implies 'I want to see you'. It's easier to have meaningful conversations, to shoot the breeze and put the world to rights. Getting an unexpected text suggesting a cosy coffee or iced tea is always an instant pick-me-up, whatever the state of your mental health.
---
← Older Post Newer Post →