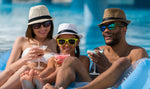 There's no better way to cool down on a sweltering day than by whipping up one of these refreshing summer mocktail recipes.
They're bursting with so much juicy fruit, chilled water, fresh herbs and tasty flavours that you won't even notice that there's no alcohol. And they're fun to make for adults and kids alike. Why not have a competition to see who can make the most spectacular concoction?
The great thing with all summer mocktail recipes is that it doesn't matter if you haven't got an ingredient – just use your imagination and invent your own version!
7 summer mocktail recipes
With just five ingredients, this lightly sweet, bubbly beauty will take less than two minutes. A good tip is to whizz up ice cold water from your BIBO Water Bar in a Soda Stream to save time and money.
Instead of champagne and orange juice, use ginger beer with a splash of maple syrup. Garnish with a sprig of mint and starfruit.
This is a real show-stopper. How often do you get a fluorescent purple party drink?! You could even add a drop of blue food colouring to make it even more dazzling. For a final flourish, get a thin slice of lemon, dip it in some dried lavender and slice half way across it so it can be pushed onto the top of the glass as decoration.
Shirley Temple Summer Mocktail
Kids will love this bright red masterpiece – especially if it comes with a sweet maraschino cherry skewered with a slice of orange. Try it with either a sparkling lemonade or still, filtered water.
Nothing tastes more like summer than a beautifully ripe peach, but peeling them can be a pain. A good trick is to blanch them first – cut a cross into their skin, plunge them into boiling water for about a minute and then put them into a bowl of instantly chilled water. The skin will peel off easily.
Less sweet than the others, but very zesty, this citrus-based version of a piña colada goes down a treat as the sun sets on another summer's day. If you don't have almond syrup, honey works just as well – just don't add too much.
Lime, mango, rockmelon and peach come together in perfect harmony! Add some chilled, filtered water if you prefer an even more refreshing drink.
---
← Older Post Newer Post →