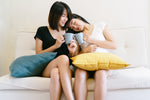 October is Mental Health Month, a chance for us all to think about our own wellbeing and how we can be there for anyone experiencing a mental illness.
Half of all Australians will experience a mental health condition during their lifetime. One in five of us is suffering through one right now.
Anxiety disorders are the most common and can have a crippling effect on the ability to function properly and face up to every day tasks. Others include depression, addiction, schizophrenia, bipolar, eating disorders, obsessive compulsive disorder and behavioural problems.
The statistics reveal the scale of the problem:
Over a quarter of 16-24-year-olds are currently suffering from a mental illness.
560,000 children (14%) have had a mental disorder. Boys are affected 30% more than girls.
The mental health burden for indigenous Australians is 2.4 times higher than for the non-indigenous.
If someone has a physical disability, they are four times more likely to be diagnosed with a mental illness.
This year's World Mental Health Day is October 10
tune in
One of the themes for Mental Health Month this year is Tune In. The idea is to be aware of your own state of mind and ways to deal with any issues you're struggling with. After that, it's about tuning in to your family and community so you can understand the role you can play for those who need help. There's more information here.
READ MORE: 10 ways to make your work space a happy space
how YOU can help
It's easy to feel helpless if someone you love is experiencing a mental health issue, but it's important to do all you can to be a good friend.
If you notice someone is acting differently or seems more withdrawn, simply asking them if they're OK is a great first step.
Going for a coffee will give them a chance to talk if they feel able.
The most important skill to have is the ability to listen. Let them get their problem off their chest and don't feel you need to offer up solutions. Just let them know that you've heard what they've been saying.
Once you've had a chat, check in with them regularly so they know you're there if they need you.
If you're worried, call one of the 24-hour counselling and advice charities like Lifeline on 13 11 14. They'll be able to talk you through some potential courses of action.
a friendly cuppa
The therapeutic benefits of tea have been known for centuries. Here are just a few of the ways it can help…
It lowers the stress hormone cortisol, helping with anxiety and mood swings.
Drinking just half a cup of green tea a day lowers the risk of developing depression and dementia.
It's rich in an antioxidant that make people feel calmer and boosts memory.
Its caffeine content lifts your mood and improves alertness.
Quite apart from its nutritional benefits, just sitting down and talking to a good listener over a piping hot cuppa can make a world of difference. With a BIBO² you don't even need to wait forever for the kettle to boil! 
And if your mental health drink of choice is water then you'll get a glass that's been filtered and purified, and is chilled to perfection at the touch of a button.
READ MORE: The bluffer's guide to herbal tea
in the MOOD for great tea
BIBO is proud to be involved in a major initiative to raise money to help prevent youth suicide, the number one killer of young Aussies.
When you buy a BIBO ², you'll receive four free packs of MOOD Tea, worth $50! All the money raised goes to the charities Backtrack and Batyr.
It's available in four carefully crafted infusions, all designed to enhance your mood and help you relax.
There's more information on how you can get involved in Mental Health Month here.
recent stories
7 fiendishly clever ways to refresh your kitchen
Why the new BIBO² is the ultimate water bar
6 tricks to save $$$ on household bills
Why coffee is no longer a mug's game
---
← Older Post Newer Post →