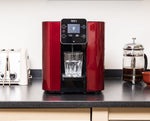 Announcing the arrival of the new BIBO² water bar, the last word in style and convenience.
This is the beautiful BIBO², the most technologically advanced water bar in existence!
The stunning next generation model has an enlarged touchscreen with multiple menu settings including temperature, quantity and energy modes, and has just gone on sale in Australia for the very first time. 
It also boasts industry-best filtration and purifying for the greatest tasting water you'll ever drink.
Best of all, it costs exactly the same as the original BIBO – just $1298!
here's why you need one... 
Unlimited hot and chilled water at the touch of a button.
Instant boiling water 24/7 - no more waiting around for the kettle to boil.
Set it dispense water at the exact temperature you need.
Multi-stage filtration including a silver-impregnated carbon block and sophisticated UV lamp to remove all the nasties from your water.
…but all the natural, essential minerals remain.
No horrible chlorine taste.
Easy to install and easy to move if relocating.
Plumbed into mains water, so never needs refilling.
SAVE $100! Shop today and get your BIBO² for just $1198. Offer ends soon
The only tricky part is choosing between the 10 vibrant colours in the range. If you can't decide between the likes of rich ruby, serene green, perfectly white and silver chic, maybe this will help you.
incredible value
If you've ever looked into buying a Zip HydroTap, you'll know it costs a whopping $4,495. Not only that, you'll have to pay extra for an approved technician to install it, and replacement filters cost more than twice as much as BIBO's!
A BIBO² is just $1298, costs 25 per cent less to run than a kettle and means you won't need to splash out on bottled water. 
 BIBO² features you won't find on the Zip HydroTap:
30-day money back guarantee.
Fully portable
UV lamp purification system
Touchscreen controls
Ability to set water to any temperature
No waste water outlet required
Available in 10 eye-catching colours
No bulky under-sink unit
READ MORE: Compare the BIBO² to the Zip HydroTap  
environmentally friendly
The BIBO² water bar uses less electricity than a kettle and means you'll never have to buy bottled water again. In Australia alone, more than 130,000 tonnes of plastic waste a year finds its way into rivers and oceans. That bottle of Fijian mineral water you grabbed on the way home from work will still be decomposing in 450 years.
It takes a litre of oil and seven litres of water to produce a single plastic bottle, so just one person switching will make a difference.
As the BIBO² filters out chlorine and contaminants, the water will taste every bit as good – and probably better – than any you buy from a supermarket.
BIBO's stylish 500ml reusable bottle is made from tough borosilicate glass, and features a bright, silicone sleeve for added protection and grip. Perfect for your desk, gym or a morning stroll.
AMAZING OFFER: Buy an original BIBO water bar for only $998!
why your office really needs a BIBO² 
No crowding in the kitchen area waiting for the kettle to boil.
More productivity.
No lost hours due to large tea runs.
Hydration increases concentration.
Saves electricity bills (more budget for biscuits?).
Pair it with an espresso machine for coffee heaven.
A great morale booster.
You can rent it for less than $2 a day.
…and how it makes home life better
Instant chilled fruit drinks for the kids so they're less likely to guzzle sugar-laden sodas.
More 'me time', less wait time.
Over 85 per cent of customers say they now drink more water.
Child safety lock.
If you have a Soda Stream, fizzy drinks are instantly chilled.
Hydration strengthens the immune system, aids digestion, improves sleep and gives you more energy.
Hot drinks like coffee and herbal teas taste better when the water is at the optimum temperature.
The BIBO² water bar really is the ultimate one-stop refreshment station. Doesn't your family deserve one?
recent stories
 6 clever tricks to slash your energy bills
Why instant coffee is no longer a mug's game
The hidden dangers lurking in your kettle
2021's 5 biggest health trends 
---
← Older Post Newer Post →