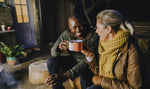 Sweet, warm, comforting and oh-so-yum, hot chocolate is the ultimate comfort food for a winter's evening. And instant hot, filtered water from your BIBO Water Bar means you can prepare it in super-quick time!
The Mayans started drinking hot chocolate over 2500 years ago, but back then it had a bitter taste as they boiled up the cocoa with chilli and cornmeal. It was only when it arrived in Spain in the 1500s that a bright spark had the idea to stir in some milk and sweeten it with honey or sugar cane.
These days, one in eight Australians sups a hot chocolate at least once a week.
We at BIBO certainly can't live without it, and decided to find some clever ideas that taste just as delicious using instant hot choc powder and steaming, filtered water from a BIBO Water Bar.
So grab your woolly jumper, light the fire and try one of these hot chocolates with a twist…
Spiced Hot Chocolate Schnapps
Three tablespoons each of spiced rum and butterscotch schnapps canoodle together in a tall glass with a dash of orange bitters for a real showstopper. Best of all, you make the actual hot choc bit instantly using store-bought powder and boiling water from your BIBO Water Bar so your lucky guests don't have to stand around while you heat up the milk.
Cinnamon Orange Hot Chocolate
We've all tried cinnamon with apple, but it also works really well with orange or mandarin for a creamy cup with a bit of a kick.
Just take the zest of one orange, a sprinkle of cinnamon and a pinch of salt, and stir it into a pan of simmering instant hot chocolate. Add a dash of cream for an even more luscious texture.
READ MORE: The ultimate, most indulgent hot choc recipe ever!
Red Velvet Hot Chocolate
Are you a fan of red velvety chocolate cake?  Of course you are, and now you can drink it too! A sneaky dollop of cream cheese thickens up this outrageously decadent creation, while an even more sneaky shot of vodka will get your central heating system into gear before you reach the bottom of the mug.
Simply make enough instant hot chocolate for two people and heat it very gently in a pan. Add a teaspoon of vanilla extract, four tablespoons of cream cheese, a cup of cream, splash of vodka and four drops of red food colouring. Top the mugs off with a swirl of whipped cream and grated white chocolate.
READ MORE: 7 reasons why your home needs a BIBO Water Bar
Salted Peanut Butter Hot Chocolate
Salted caramel is everywhere these days, but this little beauty takes the flavour a step further with a satisfying nutty edge. It works with unsweetened cocoa powder or instant hot choc – just adjust the amount of sugar you add to taste. All you do is add four tablespoons of creamy peanut butter, two teaspoons of sugar and half a cup of chocolate chips to a bowl of hot chocolate that's been left to cool for five minutes and then whisk or blend it – being very careful not to splash it on your hand in case it's still hot.
Then add a pinch of salt, heat the liquid up in the microwave for one minute and serve with toasted marshmallows. Heaven!
Spicy Aztec Hot Chocolate
The Mexicans were enjoying hot chocolate for centuries before we cottoned on, so they know a thing or two about getting it right. This recipe uses Mezcal, their national drink, but if you haven't got a bottle lurking in the pantry, rum or tequila work just as well.
For enough to serve four, make up the instant choc drink in a saucepan then add two cinnamon sticks, a medium chilli pod, a quarter of a cup of Mezcal, a tablespoon of granulated sugar and 100g of dark chocolate chips. Heat until the chocolate has melted, strain and garnish with a cinnamon stick, chilli powder and chocolate shavings.
Lavender Hot Chocolate
Dispense a mug of filtered water at 95 degrees from your BIBO Water Bar and add a level teaspoon of dried lavender. Leave it to gently steep for five minutes before straining out the lavender and stirring in the chocolate powder. Cocoa never tasted so fragrant!
READ MORE: Buy a stylish BIBO glass travel mug
Red Wine Hot Chocolate
You'll wonder how you've survived this long without a mug of this rich, winter pick me up! For enough for three, make up enough instant chocolate in a bowl and add 540g of red wine and 1.5 teaspoons of vanilla extract. Stir it together and then serve instantly. Sprinkle some cocoa powder on top.  If there are only two of you, still make enough for three!
Recent stories
The best hot drinks to fight colds and flu
This year's 7 must-have kitchen appliances
5 reasons why every office needs a BIBO Water Bar
---
← Older Post Newer Post →