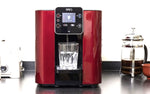 A BIBO water bar is a stylish counter top unit that delivers instant boiling or chilled water that's been filtered and purified at the touch of a button. The most delicious and safe water you will ever taste!
Here are 7 reasons why every home should have one…
1. Kiss the kettle goodbye!
A BIBO water bar means no more endless minutes waiting around for the kettle to boil. No matter how many mugs of tea and coffee you need to make, there will always be enough freshly boiled water at the touch of a button. Not only that, you won't have to worry about the kettle making your work surface look untidy.
Oh, and when we say you can 'kiss' it goodbye, we don't mean literally as kettles can be a breeding ground for germs! Did you know that 12 times more bacteria live on a kettle handle than on a toilet seat?  
You can find out more easy ways to keep your kitchen germ free here. 
2. It'll save you money
We've already established that you'll no longer need a kettle cluttering up the kitchen, which is great news because a BIBO water bar is more economical to run with its dual power saving settings. Plus, you won't have to waste any more money on bottled water.
It's also around a third of the price of common under-sink boiler/chiller systems.
3. It's planet-friendly
Talking of bottled water, we all need to urgently stop drinking the stuff. Half a trillion plastic bottles are bought every year around the world and only a quarter are recycled. Most will still be around in 450 years' time! In Australia alone, an incredible 130,000 tonnes of plastic waste finds its way into our rivers every year. 
And then there are the health concerns. Around 93 per cent of water bottles contain microplastics and many experts now recommend filtering it before giving it to kids.
So switch to a stylish BIBO reusable glass bottle made from toughened borosilicate glass. It keeps cool drinks cool and fits easilly into your bag or car drink holder.
4. Filtering out the nasties
BIBO's unique filtration system features a multi-stage carbon filter that removes chlorine, lead, heavy metals and other contaminants.  And filtered water can also help with digestion as it makes it easier to distribute natural minerals around the body and process soluble fibre.
Your BIBO water bar not only filters water, its UV lamp makes it the safest, purest water you'll ever drink. It removes the unpleasant taste of unfiltered tap water and vastly improves the flavour.  Most customers are amazed at how much better their drinking water tastes.
READ MORE: Why water from your BIBO water bar is the ultimate superfood
5. A perfect cuppa
There's more to achieving infusion heaven than drowning a bag in a mug and bashing it around a bit until the colour changes. If that sounds like you, then it's time to turn over a new leaf.
Firstly, the chemicals in tap water will ruin the delicate aromas and sensations in some fruit or herbal teas so make sure the filtered water you use is crystal clear and pure.
Next you have to get the temperature right. The subtle essence of chamomile and lemon balm only need water that's between 76 and 80 degrees as boiling water destroys the intensity of the infusion. Oolong, meanwhile, 82 degrees is just right, while black varieties need it to be boiling to maximise the flavour.
6. Every kitchen's must-have appliance
With its sleek lines and choice of 10 vibrant colours, a BIBO instantly becomes a centrepiece of any kitchen. It replaces the kettle, water cooler and bulky filtration unit so is the ultimate de-clutterer.
FIND OUT MORE: how to buy a BIBO water bar today!
7. Keeping kids hydrated
Up to 80 per cent of Aussies regularly suffer from dehydration, with most not even realising they have it, according to a recent study. It can cause headaches, lethargy, muscle cramps, constipation, lack of concentration and mood swings. Unsurprisingly, three-quarters of parents admit they are worried their kids don't drink enough water.
But with instant chilled water on tap 24/7, all of the family is more likely to keep their bodies topped up. Over 85 per cent of customers report that they've been drinking more water since they bought one.
The BIBO water bar is the ultimate one-stop, refreshment station. Doesn't your family deserve one? 
The BIBO advantage
Unlimited delicious, filtered and purified water
Touchscreen controls
Ability to set water to any temperature
Available in 10 eye-catching colours
Fully portable
UV lamp purification system
No waste water outlet required
No bulky under-sink unit
Child safety lock
30-day money back guarantee
2 year warranty
You may also be interested in...
The best apps to keep you hydrated
Mental health: let's be there for each other
---
← Older Post Newer Post →