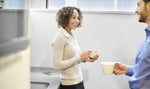 It's the place you spend most of your time so add wellness to your workplace by working on getting a healthy office and you'll soon see the benefits. Here's how with BIBO water's top three tips.
Plus! Fantastic EOFY #BIBObonus to quench your thirst!
These days, most 'healthy' offices make an effort to tick at least a few of the boxes when it comes to the trend for wellbeing. Fresh fruit, free yoga and maybe even reflexology sessions, are all just some of the ways in which employers are trying to improve the lot of their workforce.
the cost of chucking a sickie
After all, looking after the health of employees makes sound financial sense. A recent study showed that Aussies chuck 90 million sickies every year, costing the economy $34.1 billion annually.
Research from Harvard University found that improving air quality boosted mental cognition and helped workers to be more productive. Not only that, of course, but a healthy office means a happier worker – and one who is less likely to take sick leave.
That's why architects, who have for years focused on creating buildings that are kind to the planet, are now also intent on planning work places that are kind to the people in them. In the United States, they have gone so far as to introduce a certification program called the Well Building Standard. Based on medical research, it shows how buildings can affect our health – and how to improve our surroundings.
how to create a healthy office
Of course, you don't have to be an architect to make a healthy office. There are simple, cost-effective ways to ensure your workspace is working for you. Put these three simple BIBO water ideas into action and you'll soon see an improvement.
---
← Older Post Newer Post →