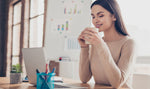 It shouldn't come as a surprise to anyone that this has been the worst year on record for workplace stress. Just 12 months ago, the country was ablaze with the worst bushfires on record, and the flames were barely out when we were suddenly in lockdown with businesses closing, social gatherings banned and unemployment skyrocketing.
Doctors and psychiatrists have catalogued a big spike in mental health issues, with men being particularly hard hit. Stress levels among male adults increased by 12 percent between January and March, and then a further 16 percent by June. Depressive illnesses are up by 50 percent compared to last year, according to the Australian Bureau of Statistics.
So there has never been a more important time to monitor stress levels, whether you still commute or work from home. Many of us simply don't realise the toll that workplace stress is taking.
are you suffering have workplace stress?
Symptoms can include:
Becoming tense and panicky.
Getting distracted easily.
Feeling overwhelmed by your workload.
Loss of appetite.
Muscle tension and a faster heartbeat.
Avoiding social contact with colleagues.
don't be in denial
Recognising that you're experiencing workplace stress instead of dismissing the symptoms is vital. Here are a few simple steps to make office life a happier experience.
Open up to a colleague you trust. Just by talking about what you're going through, you'll start the process of finding a solution.
Look after your physical health. Loss of appetite can lead to

 

dehydration,

 

which can have a serious impact on wellbeing.
Make time for relaxation activities like meditation, reading or yoga. There are some great

 

apps

 

that can help.
Contact organisations such as 

 

Heads Up,

 

Black Dog Institute

 

or

 

SANE Australia

 

for advice and counselling.
delicious drinks to de-stress
Switch things up when it comes to staying hydrated by trying these refreshing alternatives to your usual tea or coffee.
blueberry smoothie
Plenty of antioxidants with this one. Blend a cup of frozen blueberries with 1-2 cups of lettuce, half a cucumber and a cup of chilled water from your BIBO Water Bar.
strawberry and basil detox water
Strawberries are great natural energy stimulators, while basil leaves can help with your heart and blood health. Simply add two large, sliced strawberries, four slices of cucumber and four basil leaves to a glass of chilled water. Pop in the fridge for 30 minutes and then add some ice before drinking.
lavender tea
Lavender isn't just great for restful sleep, its aroma and taste has also been proved to aid in relieving stress. Either put a tablespoon of dried buds into a tea ball or strainer before steeping for 6-8 minutes or buy a ready-made version. Peppermint tea is another infusion that helps you unwind.
look out for each other
It's also important to recognise the symptoms of workplace stress in others who may be suffering in silence. If you're worried about a workmate, suggest a quick tea break so you can check in on them. If your office has instant boiling water on tap, there'll be no awkwardness waiting an eternity for the kettle to boil.
A problem shared, after all, is a problem that can be dealt with much more easily. And everything seems better when you're sharing the load over a nice, hot cuppa.
---
← Older Post Newer Post →