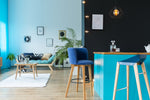 The world's most influential interior design gurus have already predicted the colours that will be on-trend in 2023. And every one has a stylish BIBO Water Bar to match!  
A BIBO Water Bar delivers instant boiling and chilled water that's been filtered and purified to taste sensational. In fact, the only hard thing about buying one is deciding which of the 10 vibrant colours to choose!
So whether you're planning to redecorate the family room, buy new furniture or install a brand new kitchen, don't touch the paintbrush or credit card until you know which colours are set to become the must-haves in Australia's most stylish homes. Here's what we found out…
Zesty Orange
Internationally renowned artist and designer Yinka Llori is very excited about the colour he says will be in chic kitchens and day rooms for all of next year: orange. "I'm obsessed with it right now," he gushes. "I use it so much in my work and home. It's important to live with hues that speak to you."
BIBO choice: Active Orange
Blue Arrow & Rising Tide 
In the US, the whole interiors industry is on tenterhooks each year until Valspar releases its Colours of the Year.  For 2023, it's all about recovery, according to spokeswoman Sue Kim.
"We are not looking to escape, but consciously doing what is needed to future-proof and build our place of safety, comfort, and joy," she predicts. "These thoughtful colours are focused on nature, heritage, and mindfulness."
Among those singled out are two pretty light blues. Blue Arrow promotes balance in the home, merging cool blue with a warm undertone, while Rising Tide is a much lighter shade that accessorises nicely with turquoise or a bright, light blue.
BIBO choice: Cool Blue
Light Blue and Dynamic Yellow
When it comes to knowing all about colour, there are few more qualified than Dulux, Australia's biggest-selling paint brand and a local favourite since 1904.
The Dulux Colour Forecast is the most widely-read trend analysis and informs the thinking of stylists, interior designers and furniture manufacturers across the world. Senior forecaster Bree Leech say this year's choices reflect the ongoing disruption caused by the pandemic as well as a growing desire for sustainability, authenticity and simple living.
"We've all reacted to the upheavals in different ways – some people crave lightness and whimsy, whilst others seek order and reassurance," she explains.
Her team has compiled three palettes that mix subtle pastels and neutrals with playful, vibrant hues to brighten up kitchens, family rooms and work places:
Balance Cool blues, gentle greens combine in calming hues  inspired by coastlines for simple sophistication. Perfect for apartment living or terraced homes with reduced natural light.  
BIBO choices:
Serene Green
and
Cool Blue
Connect Bringing the richness of nature inside with earth tones complimented with dashes of vibrant yellow, set against pure whites and bright oranges.
 BIBO choice
:
Yellow Shine
Revive Midday yellow is also the star here in a palette that's about happy, playful colours framed by white or light pastel feature walls.  
BIBO choices:
Red Hot
and
Yellow Shine
A global perspective
The worldwide authority on consumer trend forecasting is WGSN. It gauges public opinion across 128 countries and lends its expertise to more than 6500 companies.
For next year, its team of lifestyle, fashion, interior design and beauty exerts has selected the on-trend colours and conducted research into how the are perceived. Among the hot tips are Luscious Red and Tranquil Blue, both reflecting a new found optimism about the year ahead after so much uncertainty.
BIBO choices: Rich Ruby and Cool Blue
So get ahead of the trend and impress your friends and family by choosing your favourite colour today, and you'll soon be enjoying unlimited boiling or chilled water that's been expertly purified and filtered at the touch of a button.
READ MORE: This year's 7 must-have kitchen appliances
READ MORE: 7 reasons your home needs a BIBO Water Bar
Recent stories
What's actually in a glass of water?
Why BIBO filtered water is the ultimate superfood
The best apps to keep you hydrated
7 fiendishly clever ways to refresh your kitchen
---
← Older Post Newer Post →