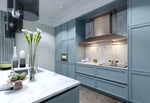 We're only half way through 2021, but the world's top stylists have already identified the hues and shades that will bedeck the most on-trend homes next year. So before you revamp your kitchen or bedroom, make sure you know the must-have colours of 2022…
SHOP NOW: Save $300 in BIBO's Stocktake Sale
We've investigated what the most influential interior design experts are predicting will be the buzz-worthy colours of 2022.
Remember, the sleek BIBO water bar has a range of 10 stunning colours to suit the look and feel of any kitchen or office.  Choosing between them is often the only difficulty in getting one!
So before you buy, check out what the global style specialists are touting as the ones that will make your kitchen the envy of discerning fashionistas and friends who are in the know about what's hot and what's definitely not.
Here's what they said...
what will be the colours of 2022?
calming blue and shades of butter!
Next year's palate will be "driven by a desire to be uplifted and energised while staying grounded and balanced" according to Jenny Clark, head of colour at trend forecasters WGSN.
She's tipping a 'calming blue' and 'creamy shade of butter' to be among the most sought after tints.
BIBO choice: Cool blue or cultured cream.
silver and black
Respected futurists Indecortrends.com predict more sombre, neutral tones will be very trendy in home renovations next year.  
'An important point to take into consideration that's been developing and will continue to do so throughout 2022 is minimalism,' they say. 'Understanding that less is more. At this time, due to a context of modernity, the colours that set the tone are focused on sobriety.' They pick metals like silver to be in vogue and say black tones will look 'sensational'.
BIBO choices: Silver Chic and Black Classic
READ MORE: 7 hot drinks with a twist for a winter's evening
pure white
When it comes to kitchens, next year is all about calm, safe tones to bring order amid the hustle and bustle of everyday life. That's the conclusion of the stylists at New Décor Trends. 'Naturalness has become the main fashion of the kitchen interior,' they reason. 'White is the main colour of fashionable minimalism. 'Despite the fact that it was dark shades that prevailed over the fashion of 2022, it's unlikely that white will go out of fashion because it's a classic of the genre'.
BIBO choice: Perfectly White
2022 kitchen design trends
Aside from colour, other kitchen fashions to look out for in the coming 12 months include:
eco style
More people want to show they're taking climate change seriously by using more recycled materials, efficient appliances and electricity from sustainable sources. A BIBO water bar uses less electricity than a kettle and only dispenses the exact amount if water you need.
eclecticism
A combination of two or more styles not only shows imagination and creativity, it means you're not confined by convention when it comes to textures, patterns and styles. Overly uniform spaces are well and truly out.
pop art
If the food preparation area is muted, then why not add some colour with vibrant paintings, neon colours, glitter prints and flamboyant light shades? It's inexpensive and can make a humdrum kitchen exude confidence and personality. A BIBO water bar in Red Hot or Active Orange will become an instant focal point.
READ MORE: 10 deliciously different hot chocolate recipes
grey/green walls
This will continue to be a massive trend, bringing an aristocratic air to rooms, a respite from glare of pure white and the stress of city life. 
Recent stories
---
← Older Post Newer Post →