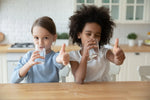 BIBO vs Zip vs Billi - which filtered water system is best for instant hot and cold water?
Before you buy a water filter or instal a filtered hot and cold water system in your kitchen or workplace, it's important you know about all of the options.
Some are vastly more expensive, require professional installation and can't be taken with you when you move.  Others not only filter out all the nasties, but also purify the water to kill harmful bacteria.
The BIBO Water Bar is Australia's No 1 counter top water dispenser, providing great tasting instant hot and cold filtered and purified water.
Let's look at how it compares to the under-the-sink water systems, the Billi B4000 and Zip HydroTap. 
The healthiest water to drink
All three units have advanced multi-stage carbon bock filters to remove dirt, sediment, chlorine, heavy metals such as lead, cysts and other chemicals. They retain beneficial minerals like calcium and magnesium.
The BIBO Water Bar also has a unique UV lamp which purifies the water and therefore prevents the build-up of harmful bacteria.
How much do filtered water dispensers cost?
A BIBO Water Bar costs $1298, with free shipping and a free installation kit. If you'd prefer to engage an approved BIBO technician to connect it up, the cost is $325 (standard installation).  An annual filter replacement pack is $198, with free delivery, but you'll save 15% if you take out a filter pack subscription. Changing the filter is a simple procedure. There's a step-by-step video here.
The Billi B4000 costs between $2783 and $2896 while the B5000 starts at $4118. It requires under sink installation, which costs between $385 and $434. Replacement filters are from $166 to $270, and most customers pay for a professional plumber to swap them over.
The range of Zip HydroTaps retail between $2995 and $7795 and must be installed by an approved technician at an additional cost. Replacement filters are around $280 and usually require a plumber to do the work.
The ongoing maintenance costs for both Billi products and ZipHydro Taps are more expensive than the BIBO.
The BIBO is the only one with a 30-day money back guarantee.
The easiest filtered water system to instal and use!
The BIBO Water Bar is an all-in-one counter unit that just needs to be connected to the mains via a flexible ¼" pipe. It has a compact 30 x 35cm footprint and doesn't require a wastewater outlet.
It doesn't need to be placed near a sink and, if you move house, it can move with you.
Billi is a two-part, fixed system with an above-counter tap and large, under-counter filtration unit (18 x 50 x 34cm) that requires plumbing into the mains and a wastewater outlet. Once installed, it can't easily be removed.
Zip also takes up space under the sink (28 x 46 x 33cm) and requires plumbing into the mains and a wastewater outlet. It also needs air vents to allow heat to escape. It too isn't portable.
The BIBO Water Bar is a perfect water solution for those individuals who have difficulty pouring hot water from a kettle or reaching for the kitchen tap. BIBO Water Bar is used by the touch of a button! 
Great tasting filtered water at the exact temperature you want
A BIBO Water Bar allows you to dispense the exact temperature you need from chilled up to boiling in increments of 5°C. The delicate flavour of some teas and coffees can be ruined if the water temperature is too hot, so you can make sure it's just right every time.
The Billi and HydroTaps dispense either boiling or chilled water so there's no option to adjust the temperature to choose warm water for kids' hot drinks or very hot water that's not quite boiling.
What colours are available?
The counter top BIBO Water Bar is available in ten vibrant colours to suit any kitchen or workplace from dynamic blue, green and yellow to silver, pure white, red and black.
The only visible component of the Zip is the tap which comes in standard chrome. Other finishes including gold and gunmetal come at an additional cost.
The Billi B4000 comes in a range of different metallic finishes, including black, chrome and white, some for additional charges of around $500.
READ MORE:
Why water filters are so important
7 surprising ways a BIBO Water Bar can transform your home
SHOP NOW
You may also be interested in...
Style gurus reveal the hottest colours of 2023
7 fiendishly clever ways to refresh your kitchen
Why coffee is no longer a mug's game
Take a mental health coffee break
All prices correct as of Jan 1 2023
---
← Older Post Newer Post →